The Last Winter is the last episode of The New Finale and the game. This is the 35th episode overall and the 7th in the New Finale. In this episode, the pigs make a snowball machine that The Flocks will be hitten. The Emperor Pig in the last level will be hopping. The Santa Pig will be playable. Because of this episode is the final episode, this episode have 5 missions. Red, Bomb and Chuck in this episode have new powers, Red's power from Red's Mighty Feathers, Bomb's power from Short Fuse and Chuck's power from Rocket Rumble. 
Episode Info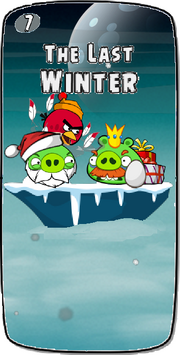 Name: The Last Winter
Episode Number: 35, last episode of the game (7th in the New Finale)
Levels: 50 ( 2 levels open in a day)
Pages: 5
Difficulties: Expert
Golden Item: Golden Snowball Machine
Previous Episode: Crystal Cavern
Game(s); Angry Birds The New
Mission
1-10: Kill the pigs,just like ABO.
11-20: Pigs now have vehicles just like in Red's Mighty Feathers. You have to save the 5 presents.
21-30: Pigs now have balloons. You have to pop all balloons before the time runs out. In the fifth level, Santa Pig is playable.
31-40: The Green Bird has already unlocked. The Green Bird is the only playable bird unless if you defeat 10 levels. Use the Green Bird to pop the snowpigs before the time runs out.
41-50: All the birds are frozen except Terence and Santa Pig. The pigs are hiding on caves. It's up to Terence and Santa Pig to save the birds and kill the Emperor Pig.
New Playable Character
Community content is available under
CC-BY-SA
unless otherwise noted.