The Apprentice

Weight:

139 lbs.

Height:

5"8"

Age:

19 (8th Episode) 27 (RPG)

The Apprentice is very loyal to King Pig and very powerful,but not meant for his intelligence.He is one of the antagonists from Angry Birds:RPG.He is the leader of The Five Grand Officers.He is also one of The Three Tempest Generals. His name is Will.
Story
The Apprentice once have been the lowest pig rank,and also not that much experience in fighting.When he joined the army in Angry Birds:Pigs Advantage and also was the one who killed Red Bird.
Death
The Apprentice got sent by King Pig to stop the Bird Party to enter King Pig's den.The Apprentice brought guards with him,but got hit with a fatal blow,killing him instantly.The guards ran away to King Pig and reported about The Apprentice's death.King Pig then asks his guards to get prepared and also King Pig gets prepared for the bird party to stop him.
Die birds! Rrrragghh! (Moans when struck)-The Apprentice's words before death.
Relationships
King Pig-The Apprentice is very loyal to King Pig and is a very good servant to King Pig.
Battle Lines
"Idiot fool!"
"Coward!"
"Quit Resisting!"
"Die...You!"
"Die you insect!"
"Hold still!"
"Your afraid of being chained down right!?"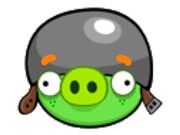 Community content is available under
CC-BY-SA
unless otherwise noted.