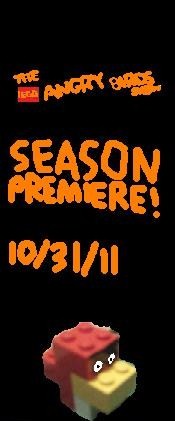 The Angry Birds Show is an online show created by William Alcantar.Two versions of the show are LEGO and Plush versions,LEGO will premiere on October 31,2011 with Brick or Treat,while the plush version is set to be released around Janruary 2012 but no episodes announced yet.28 episodes are set for premiere for the LEGO version.Season 2 and 3 have been announced for the LEGO version,Season 2 will have 27 episodes starting from July 2,2012 until December 31,2012,with 4th of Birdfly premiering,while Season 3 will start premiering on February 18,2013 with some episodes yet to be announced,starting off with Love at First Flight.
Episodes
Season 1
Munching Over(V)
Rivalry Scrunch
Crowned Morning
Anger Fever(V)
Blood Decay(V)
Season's Brickings
XMAShup (A play title on XMas and Mashup)(V)
Happy New Fear's(V)
Family Beak
What the Dimension? Part, 1(V)
What the Dimension? Part, 2(V)
What the Dimension? Part, 3(V)
Egg Safety 101(V)
Hogs and Bricksses(S,V)
Bricky Challenge
The Invasion of Pigs(V)
Despicable Me'd
Popping Corn(V)
Go Green,Get Piggy
Golden Egg Safety 102(V)
Jinxied(V)
Bird is the Word
Happy Birthday,Blue Bird!
Curse of the Were-Piggy(V)
Nega-Green Bird
From Samba to Zumba
Party to My Feathers
Boldest Bird Ever(aka The Mighty Eagle)SEASON FINALE!(V)
Season 2
4th of Birdfly(V)
Summer Bricknic
Peace Treaty(V)
Squakyfying Horror Tales(V)
Season 3
Love at First Flight
VS. The Plush(V)
Garrd's Revenge (SERIES FINALE!)
Trivia
Every Monday,a new episode is scheduled,with all but Brick or Treat scheduled for 8:30 pm while the first episode is scheduled for 5:30 pm,since most people take their kids to trick or treat.
"What the Dimension?" will be split into 3 parts,with one part released every Friday.
Since there are 28 episodes to list,the show will be continuing for 30 weeks of Season 1 (this means that there are actually 30 episodes,since What the Dimension? is put to 3 parts,which are seperate for 30 episodes in all.
Crowned Morning was originally going to be released on November 28,2011,but it will be released a week earlier,after the premiere of another episode,Rivalry Scrunch.
"The Angry Birds Show" Name Is Simular To The Show Created By energysteven And MultiKeegster2.
Community content is available under
CC-BY-SA
unless otherwise noted.