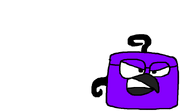 Purple Bird



'



General Info

Powers

Traveling through objects

Gender

Male

Species

Purple Starling

Strength

Medium

Size

Regular
The Purple Bird is a custom Angry Bird which has the ability to turn invisible and travel through anything (Except the floor) when tapped, and can turn back to visible when tapped a second time.This bird is based upon a Purple Starling and also has glasses to represent magic (Lots of people think of wizards having glasses) The Purple Bird is most useful on heavily defended pigs inside stone structures, since it can travel through the structure and cut through the pig like a ghost blade.
Trivia
The Purple Bird is the first angry looking bird without eyebrows.
The first bird wearing any accessories.
The first bird able to activate and deactivate it's power through many taps.
Fun Facts
Sit down and look straight at the bird. It looks purple. Now stand up and look down at the bird. It looks hot pink. Now crouch down and look up at the bird. He looks blue. Cool, right?
Community content is available under
CC-BY-SA
unless otherwise noted.