Pig O'Mueller

Weight:

147 lbs.

Height:

5"9"

Age:

21

Weapons:

Axe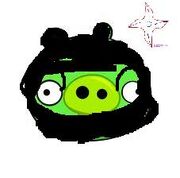 Pig O'Mueller is one of The Five Grand Officers.He is one of the antagonists of Angry Birds:RPG.
Story
Pig O'Mueller is the most intelligent Grand Officer.When he advises King Pig mostly he accepts his plans.He wields a very large ax, but not so skillful in using it.He joined the pigs since Angry Birds:Pigs Advantage.
First Appearance
Pig O'Mueller meets the bird party.The birds defeated all the guards.Pig O'Mueller begins to attack the party and defeats them.He started to confiscate the birds' swords,axes and spears.He goes into the prison and imprisons the party.
Death
Pig O'Mueller escapes the prison, but the bird party escapes and kills Pig O'Mueller.The party continues on.
Relationships
King Pig-King Pig always accepts Pig O'Mueller's plans.
Battle Lines
"No chance!"
"Heh...fool"
"You insect!"
"You birds will face a tragic end!"
Community content is available under
CC-BY-SA
unless otherwise noted.