Five Nights at Red's 2: Grand Re-Opening!
is a horror, survival, point-and-click game and a sequel to
Five Nights at Red's
. Much like the past game, it recived a T rating due to extreme content. The new protagonist's name is Jeremy Pigzgerald. Same as FNaR1, you have to survive from 12AM to 6AM without being caught by any of the animatronic birds. It is as well the second game in the
Five Nights at Red's
series.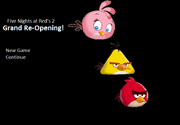 Story
Jeremy Pigzgerald gets hired at Red Fazbird's Pizza as a security guard for the night shift. During the night however, the animatronic birds become active and Jeremy must survive the week.
After making it to 6AM on night 5, Jeremy Pigzgerald gets his $180.00 paycheck.
Surviving the 6th Night, he gets another paycheck.
Beating 20/20/20/20/20 mode on Custom Night, Jeremy gets moved to day shift.
Gameplay
Five Nights at Red's 2: Grand Re-Opening! is a horror, survival, point-and-click game just like Five Nights at Red's. There are no doors, so you have to wear a Red Fazbird mask in order to trick the animatronic birds into thinking thay you are one of them. There is a "music box" in the Prize Corner that you frequently have to wind up, as it will draw all animatronic birds towards it, except one. If you fail to wing the music box, you will be introduced to Krystal, who takes the role of the Marionette/The Puppet and there is nothing you can do to stop him.
6th Night and Custom Night
After beating night 5, the player gets a star on the main menu screen as proof that they've beaten the game, but not just yet as there is a 6th Night. This is even harder than Night 5. Beating it awards the player a second star, plus the Custom Night, where you can set the AI (artificial intelligence) of the animatronic birds. To get the third and final star, you must enable 20/20/20/20/20 mode.
Characters
Pigs/Security Guards
Jeremy Pigzgerald
Phone Pig
Birds/Animatronics
Locations
The Office
Party Room 1
Party Room 2
Party Room 3
Party Room 4
Left Air Vent
Right Air Vent
Main Hall
Parts/Service
Show Stage
Game Area
Prize Corner
Kid's Cove
Menu Screens
Community content is available under
CC-BY-SA
unless otherwise noted.