Five Nights at Red's is a horror, survival, point-and-click game. Due to intense material, it received a T rating. In the game, you play as a Minion Pig (unknown size though) named Mike Schpigth and survive five nights from 12AM to 6AM without being caught by the animatronic birds. It eventually got a sequel entitled Five Nights at Red's 2: Grand Re-Opening!. It is notable for being the first installment in the Five Nights at Red's series.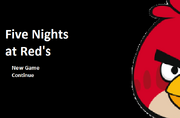 Story
Mike Schpigt gets hired as a security guard at Red Fazbird's Pizza. During the night, the animatronic birds become "quirky", as said by the Phone Pig.
After making it to 6AM on night 5, Mike Schpigt gets his $150.00 paycheck.
He survives the secret night 6 and gets another paycheck at 6AM.
Beating 20/20/20/20/20 mode on custom night, he gets moved to day shift.
Gameplay
FNaR is a survival, horror, point-and-click game. You have to check between cameras and close doors. The fan comes in handy for the Bubbles animatronic, who is taking the role of Foxy/Hal's parrot, as he is the smallest animatronic and will get blown away. Using the camera takes up power.. If you loose all of your power before 6AM, the Red animatronic will show up.
Power can be drained by using the doors, lights, fan, or security camera.
Power
You have a power indicator at the bottom of the screen. There can be five indicators at maximum. It is possible that you can have six indicators at maximum, but this hasn't been proven true, yet. This strategy may help:
12AM: 100%
1AM: 83%
2AM: 66%
3AM: 50%
4AM: 33%
5AM: 16%
6AM: 0%
6th Night and Custom Night
After beating night 5 , the player will earn a star on the main menu, plus a secret 6th night, which is even harder than night 5. Beating the 6th Night gives the player a second star and the Custom Night. In Custom Night, you can set the AI (artificial intelligence) of the animatronic birds. The highest AI is 20. In this night, all five animatronic birds will be active. Listed below is the AI level. In order to get the third and final star, you must set the AI of all animatronic birds on 20, thus enabling 20/20/20/20/20 mode, aka 5/20 mode.
0-2: easy
3-6: medium
7-12: hard
13-20: extreme
Characters
Pigs/Security Guards
Birds/Animatronics
List of locations
The Office
Show Stage
Dining Area
Pirate Cove
West Hall
W. Hall Corner
Supply Closet
East Hall
E. Hall Corner
Backstage
Kitchen
Restrooms
Gallery
Trivia
Hal's Parrot is the only one that is not based on a character that originated from FNaF, but is an original character instead.
Phone Pig mentioned an incident called "The Bite of '93". This is an obvious parody of The Bite of '87.
Due to him taking the role of Foxy, Hal is the only character who doesn't directly attack the player.
Community content is available under
CC-BY-SA
unless otherwise noted.