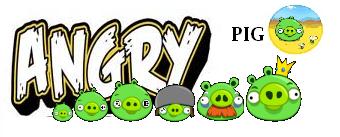 Angry Pigs is a game story after the birds retrieved all the eggs. The pigs want them back and go to take revenge on the Birds.
The Game over sound effect is the Angry Birds Win! song. The Win sound effect is the fail from other games.
Angry pigs is a modification from angry birds
to play oper :C to Progam and data and open angry birds
THE EPISODE:
EGGS ARE RETRIEVED (World 1-3)
BIRDS GONE HOAX (World 4-6)
DANGER ATTACK (World 7)(Boss Big Bird War)
BONUS 5 LEVEL (World 8)
THE BONUS LEVEL GOLDEN EGG(Bonus 8):
Bird painted egg
Star painted egg
Pig painted egg
William99 stamp egg
Arabic text egg (ENGLISH TRANSLATION IS FOR BIRD ONLY)
ANVALIBLE IN:
iPhone (JailBreaked)
PC(C:\ to C:\Program Files to Rovio to C:\Program Files\Rovio\Angry Birds to data to image)
Mac(JailBreaked)
Community content is available under
CC-BY-SA
unless otherwise noted.