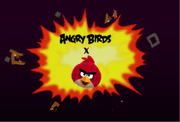 Angry Birds X is the tenth regular installment in Rovio Entertainment's Angry Birds franchise, after Angry Birds, Angry Birds Seasons, Angry Birds Rio, Angry Birds Space, Angry Birds Star Wars, Angry Birds Star Wars II, Angry Birds Go!, Angry Birds Epic, and Angry Birds Stella. (Angry Birds Friends wasn't counted amongst these as it never received a standard release.) It initially featured only one episode, but a succession of updates followed amounting to a total of 10 Episodes.
Episodes
Green Ham and Eggs
The opening cutscene shows the Flock finding the Helmet Pig on their island. His helmet explodes. Red flies away, but the rest of the birds are caught in the explosion. He lands on the Pigs' island, and goes into hiding. He finds that the pigs have the eggs and begins his attempt to get them back. Gameplay in the episode is different to the original game as all shots must be made from hiding. At the end of the first chapter, Red is discovered by the pigs. He continues to fight them, though in the standard style this time. The final boss fight against the Chef, King, and Fat Pigs ends with the eggs hatching. Red and the new birds set off to find help.
Closed Season
Coming Soon
Return to Rio
Coming Soon
First Contact
Coming Soon
A Flew Hope
Coming Soon
The Bacon Menace
Coming Soon
Early Bird
Coming Soon
One Stone
Coming Soon
Girl Last Door
Coming Soon
X
Coming Soon
Community content is available under
CC-BY-SA
unless otherwise noted.