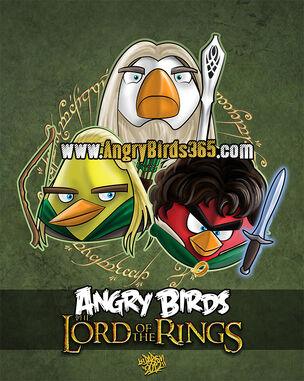 Angry Birds 365 came up with an idea of creating a Lord of the Rings version of the popular mobile game.
Angry Birds Lord Of The Rings Characters
Gandalf as White Bird
Legolas as Yellow Bird
Frodo as Red Bird
Hobbits as Blue Birds
Gimli as Big Brother Bird
Aragon as Bomb Bird
Orces and Goblins as Piggies
Source
The original story, with the script, the gameplay and some special features is found here .
Episodes
The Fellowship Of The Ring
The Two Towers
The Return Of The King
The Hobbit
The Hobbit (Part 2)
The Hunt For The Missing Ring (Buy For $0.99 Or Find All Of The Golden Rings)
Golden Rings
Community content is available under
CC-BY-SA
unless otherwise noted.