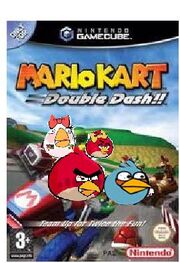 Angry Birds Kart x2 was released for the Rovio Birdcube. It is basically like Mario Kart but with birds and pigs.
Main Partners
Red & White
Orange & Black
Yellow & Green
Big Bro & Blue
Pig & Helmet Pig
Moustache & King Pig
Female Red Bird & Female White Bird
Items
Slignshot
Shells
Banana Peel
Fireballs
Launcher (Red Bird only)
Cloner (Blue Bird Only)
Turbo Boost (Yellow Bird only)
Bomb (Black Bird only)
Bomb Shower (White Bird only)
Boomerang (Green Bird only)
Earthquake (Big Brother only)
Courses
Slingshot Cup
Red Bird Circuit
Pig Battlefield
Angry Arena
Slingshot Park
Golden Egg Cup
1. Yellow Bird Circuit
2. White Bird Snow Land
3. Pig City
4. Bird Beach
TNT Cup
1. Blue Bird Clonerizer
2. Pig Fort
3.Green Bird Valley
4.Big Lake
Special Cup
1. Big Bro Jungle
2. Orange Bird Bridge
3. King Pig Castle
4. Rainbow Road
Community content is available under
CC-BY-SA
unless otherwise noted.