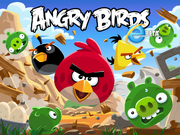 Angry Birds IE9 is a game made by Rovio, in collaboration with Microsoft, released in 2012. The game introduces a new set of features, not available in other Angry Birds games.
Features
Angry Birds IE9 brings out a set of features, and some are new, which are listed below:
Chapters
Poached Eggs
Mighty Hoax
Danger Above
The Big Setup
Surf and Turf (New)
IE World (New, unlocks after getting a IE logo in a level)
Birds
Red Bird
Blue Bird
Yellow Bird
Black Bird
White Bird
Terence
Boomerang Bird
Orange Bird (New)
Other
IE Logos, which are the IE variants of Chrome Logos and Golden Eggs.
The ability to compete with friends, using a Windows Live ID.
Sharing scores of levels via Windows Live.
The ability to challenge an user from another country.
Possibility to play in the player's language, not just English.
Playing offline, with online features disabled.
Achievements, which automatically register to the scoreboard if you get them offline and online.
Achievements
Herr Helmet: Finish chapter 1. 10pts
Mr. Moustache: Finish chapter 2. 10pts
Defeat of the King: Finish chapter 3. 10pts
Poached Eggs - Pro Slinger: Get 3 stars in all levels of Poached Eggs. 30pts
The Imposter: Finish chapter 4. 10pts
The mysterious Escape: Finish chapter 5. 10pts
Mighty Hoax - Pro Slinger: Get 3 stars in all levels of Mighty Hoax. 30pts
Hovering Helmet: Finish chapter 6. 10pts
Mounting Moustache: Finish chapter 7. 10pts
The Green Baron: Finish chapter 8. 10pts
Danger Above - Pro Slinger: Get 3 stars in all levels of Danger Above. 30pts
The Hardhat Hidalgo: Finish chapter 9. 10pts
Mr. Mason Moustache: Finish chapter 10. 10pts
The Royal Ringleader: Finish chapter 11. 10pts
The Big Setup - Pro Slinger: Get 3 stars in all levels of The Big Setup. 30pts
Bird Slinger: Sling 100 birds. 15pts
Pig Hater: Pop 300 pigs. 15pts
Hardcore: Get 3 stars in all levels of Angry Birds IE9. 50pts
First Discovery: Find an IE Logo. 5pts
The Hunter: Find all the IE Logos. 10pts
Logo Lover: Earn 5 IE Logo stars. 10pts
Rookie: Win 1 online match. 5pts
Intermediate: Win 5 online matches. 10pts
Expert: Win 20 online matches. 20pts
The Champion: Win 100 online matches without losing. 100pts
IE Logo locations
Poached Eggs 3-20: Right above the rock building.
Surf and Turf 1-6: In the barrel.
About Screen: Go all the way down until you'll see a small IE logo replacing a random lowercase e.
The Big Setup 10-3: Pop the duck below the bridge.
Help Screen: Go to the Blue Bird page and there will be a small IE logo next to the first pig. It's very small to see, so you need to zoom in order to catch it.
Updates
02/16: Fixed bug that stopped unexpectedly online matches even if players were connected.
04/12: Fixed fatal error that reset the game's progress if playing for over 5 hours.
Community content is available under
CC-BY-SA
unless otherwise noted.