Angry Birds Extreme is a game where all the games of Angry Birds are combined into one game. This game was released on September 17, 2012. If a new game of Angry Birds is released, Angry Birds Extreme will have an update to download so the game can be put into THIS game. 
Characters
Birds
Red Bird
Yellow Bird
Blue Birds
Black Bird
White Bird
Boomerang Bird
Terrence
Orange Bird
Pink Bird
Super Red
Lightning Blues
Fire Bomb
Lazer Chuck
Ice Bird
Amazing Terence
Atom Bubbles
Space Egg (Bonus Levels)
Blu
Jewel
Pigs
Small Pig
Medium Pig
Large Pig
Helmet Pig
Moustache Pig
King Pig
Fat Pig
Other
Games Included
Angry Birds Wonderful Pistachios
Angry Birds Cheetos
Angry Birds Tyrkisk Peber (Angry Birds Volcano)
Angry Birds Heikki
Angry Birds Vuela Tazos
Angry Birds Fuji TV
Angry Birds Coca-Cola
Angry Birds Ultrabook Adventure
Angry Birds Seasons
Angry Birds
Angry Birds Space
Angry Birds McDonalds
Angry Birds Star Wars
Angry Birds Rio
+Angry Birds Go! (coming soon)
New Features
Golden iPhones

Instead of just golden eggs, there also comes golden IPHONES! Collect a golden egg and you unlock a level, but with a golden iphone you get a chance to win a real iPhone, you unlock a level, and a SECRET level!
Level Rings

Level rings are mysterious little circles that appear in some levels from time to time. It is very rare to get, because they only stay in the air for 3 seconds. These rings are always light-blue colored. Whenever you collect a level ring, you unlock a secret level and the rest of the levels in your current episode. There are actually some level rings that unlock 2 secret levels instead of 1, and another whole episode. So, if you are lucky enough, that can happen.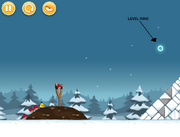 Community content is available under
CC-BY-SA
unless otherwise noted.