Angry Birds Duo has new birds.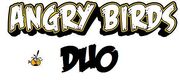 Heroes in Game
Real Birds
Red Bird
Blue Bird
Yellow Bird
Black Bird
White Bird
Green (Boomerang) Bird
Big Brother (Big Red) Bird
Orange (Globe) Bird
Sringer (shockwave) Bird
King Bird ( Current Leader)
Queen Bird
Pink [Bubble] Bird
New Birds
Teal (Water) Bird (spreads water)
Toxic Bird (colors yellow and black make up this bird) (spreads toxic)
Idiot (Reversed) Bird (colors white and cyan made up this bird) (reversed controls when used) (no ability)
Gold (Speedup) Bird (speeds up, cuts through everything instead of just wood)
Rainbow Bird (rolls when clicked)
Purple Bird (bounces when landed on something and clicked)
Paper Plane Bird (launches a paper plane at pigs when clicked)
8. Nyan Cat Bird (color pink, speeds up and leaves a rainbow trail when clicked or tapped).
9. Zap Bird (color Aqua Marine)Zaps all Pigs.
10. Jumper Cable Bird ( Uses jumper cables)
11. Big brother bomb Bird (More powerful than Black Bird)
Total Birds:
Mighty Eagle enabled? True

22 (includes the Mighty Eagle)
21 (excludes the Mighty Eagle)
Themes
Mystery Cave - 21 Levels, 2 Sets All Birds appear except every other bird and the Orange Bird
Egg Hunt - 21 Levels, 2 Sets First Appearence of Jumper Cable Bird
Egg Discovery - 21 Levels, 3 Sets, First Appearence of Queen Bird
Through the Air - 15 Levels, 3 Sets, First appearance of Paper Plane Bird
Rolling Against - 15 Levels, 2 Sets, First appearance of Rainbow Bird
Inflate More, Deflate Less - 2 Sets,15 Levels, has the most amount of appearances of the Orange Bird
Reversing - 18 Levels, 3 Sets, First appearance of Idiot Bird
Woodpeckers Unite! - 3 Sets, 18 Levels, First appearance of Gold Bird
Spreaders Aware - 2 Sets, 18 Levels, First appearance of Teal Bird and Toxic Bird
Found Out - 2 Sets, 20 Levels First appearence of Zap Bird
Boing Boing - 3 Sets, 20 Levels, First appearance of Purple Bird
Meme Town - 2 sets, 20 Levels, First appearance of Nyan Cat Bird. Pigs have troll face or epic face masks and other birds are disabled
Final Vengeance - 3 Sets, 20 Levels, First appearence of Sringer Bird
The Horrible Chase of the King - 3 Sets , 45 levels,First appearence of King Bird
Special Themes
Rainbow Eggs - 21 Levels (the Golden Eggs in this game)
Sprite Egg - Unlocked as Rainbow Egg 8 (contains all sprites. When a sprite is clicked, it will show its scripts)