Angry Birds is a popular game launched by ROVIO on October 10, 2009. It is about the birds getting revenge on the pigs for stealing their eggs. As of July 2011 it was announced that Angry Birds has won 3 gaming awards and 6 emmy awards. Angry Birds was launched in San Fransisco, California at 12:00 AM PST (Pacific Standard Time).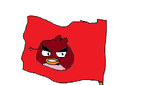 List of Operating Systems
Angry Birds work on many operating systems.
There is also a whole bunch of rumored systems that Angry Birds will be playable on in the Future.
Computer (not the internet)
Birds
See main article: Birds
There are currently 32 birds in total, 7 are playable, and 16 birds are enemies theirselves.
Pigs
See main article: Pigs
There are currently 21 pigs in total.
Monkeys
See main article: Monkeys
There are currently 13 monkeys in total.
Godzilla
See main article: Godzilla
The godzilla was only seen in Angry Birds: The End??
Future Birds
See main article: Future Birds
There are several future birds to come thanks to an internet leak.