PLY4 is not a new app but an addon for Angry Birds, Seasons and Space.
It is an online game where you control the birds and players create structures for you to destroy. It swaps around every time you complete or fail a level.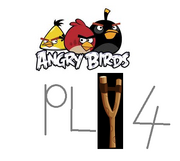 The game knows when you have got PLY4 and asks you "Do you want to use Play4?" If you click yes it will connect and wait for players.
Playable chapters in Angry Birds
Poached Eggs
Mighty Hoax
Danger Above
The Big Setup
Ham em high
Mine & Dine
Playable chapters in Angry Birds Seasons
All of Seasons 2011
Playable chapters in Angry Birds Space
All but danger zone and eggsteroids
Facts
Angry birds PLY4 is only compatible with themes with pigs in!!!
You can create levels and share them!
You can mix Seasons with Space!
Space's Bubbles are allowed into Seasons and ABO.
Community content is available under
CC-BY-SA
unless otherwise noted.